Barry Wilson - Player Profile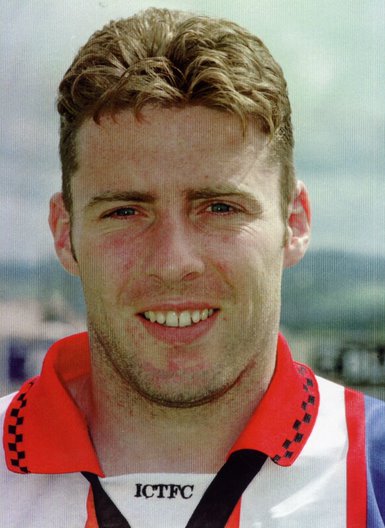 | | |
| --- | --- |
| Full Name: | Barry Wilson |
| Born: | February 16th, 1972 (Kirkaldy) |
| Position: | attacking midfielder, wide player |
| Signed: | July 1st, 1996 |
| First Manager: | Steve Paterson |
| Left Club: | May 31st, 2009 |
| Career Stats: | 353 appearances, 83 goals |
| Full Debut: | August 3rd, 1996 - Clyde 1 - 0 Inverness CT (League Cup - Rd 1) |
| First Goal: | November 23rd, 1996 - Queens Park 2 - 3 Inverness CT (League - ) |
| Also Played For: | Elgin City, Livingston, Peterhead, Queen of the South, Raith Rovers, Ross County, St. Johnstone |
Position : Midfield/Forward - Signed (1) from: Raith Rovers
Date Signed: July 1996 - Signed (2) from: Livingston
Date Signed: September 2003

Bell's Third Division Championship Winners Medal - Season 1996-97

Bell's Challenge Cup Runners-Up Medal - Season 1999-2000

Bell's Cup Winners Medal - Season 2003-04

Bell's First Division Championship Winners Medal - 2003-04

Barry was a legend at Inverness over two spells at the club. Scored one of the goals to secure promotion against St Johnstone in May 2004 and also scored a tremendous header as 'Super Caley went ballistic' at Parkhead.
Also known as 'Millenium Man' having scored the last goal in Scottish Football of the previous Millenium and the first goal of this Millenium. A man for all Milleniums apparently.

Bazza scored his first goal on Saturday, November 23rd, 1996 at Hampden Park, Glasgow: "Wilson made it 2 after a superb solo run and a good shot from 18 yards.
Final goal was on May 10th 2008 against Falkirk: "Best that can be said about the game was Bazza becoming the second top ICT scorer on his own after calmly converting a penalty he himself won in the last couple of minutes, cutting along the byeline and being felled as he moved into the box.
| | | | | | |
| --- | --- | --- | --- | --- | --- |
| Nov 23rd, 1996 | League | (A) | vs. Queens Park | 3 - 2 | (15') |
| Nov 30th, 1996 | League | (A) | vs. Arbroath | 4 - 1 | (44') |
| Feb 8th, 1997 | League | (H) | vs. East Stirlingshire | 3 - 2 | (16') |
| Feb 12th, 1997 | League | (A) | vs. Ross County | 3 - 0 | (43') |
| Apr 12th, 1997 | League | (H) | vs. Albion Rovers | 4 - 1 | (74') |
| Aug 2nd, 1997 | League Cup | (H) | vs. Stenhousemuir | 5 - 1 | (80') |
| Sep 20th, 1997 | League | (A) | vs. Queen of the South | 1 - 2 | (63') |
| Nov 8th, 1997 | League | (H) | vs. Stenhousemuir | 4 - 1 | (44') |
| Dec 6th, 1997 | Scottish Cup | (H) | vs. Whitehill Welfare | 3 - 1 | (80') |
| Dec 27th, 1997 | League | (H) | vs. East Fife | 4 - 0 | (85') |
| Jan 17th, 1998 | League | (H) | vs. Clyde | 5 - 1 | (20') |
| Jan 24th, 1998 | Scottish Cup | (H) | vs. Annan Athletic | 8 - 1 | (84') |
| Jan 24th, 1998 | Scottish Cup | (H) | vs. Annan Athletic | 8 - 1 | (14') |
| Mar 3rd, 1998 | League | (A) | vs. Livingston | 2 - 2 | (81') |
| Mar 14th, 1998 | League | (A) | vs. Clyde | 6 - 1 | (27') |
| Aug 4th, 1998 | League | (H) | vs. Partick Thistle | 1 - 0 | (57') |
| Aug 15th, 1998 | League | (H) | vs. Livingston | 2 - 1 | (62') |
| Sep 12th, 1998 | League | (H) | vs. Queen of the South | 3 - 2 | (67') |
| Oct 3rd, 1998 | League | (H) | vs. Forfar Athletic | 2 - 2 | (83') |
| Nov 7th, 1998 | League | (H) | vs. Stirling Albion | 3 - 1 | (88') |
| Nov 21st, 1998 | League | (H) | vs. Clyde | 1 - 1 | (25') |
| Dec 19th, 1998 | League | (A) | vs. Partick Thistle | 1 - 2 | (67') p |
| Jan 9th, 1999 | League | (H) | vs. Arbroath | 2 - 0 | (36') |
| Jan 30th, 1999 | League | (H) | vs. Forfar Athletic | 2 - 0 | (17') |
| Feb 20th, 1999 | League | (A) | vs. Alloa | 4 - 1 | (81') |
| Feb 27th, 1999 | League | (H) | vs. Livingston | 3 - 1 | (31') |
| Mar 13th, 1999 | League | (H) | vs. East Fife | 4 - 0 | (59') |
| Apr 3rd, 1999 | League | (H) | vs. Clyde | 3 - 0 | (3') |
| Apr 17th, 1999 | League | (A) | vs. Queen of the South | 1 - 1 | (17') |
| Jul 31st, 1999 | League Cup | (A) | vs. Stenhousemuir | 3 - 1 | (68') |
| Oct 30th, 1999 | League | (A) | vs. Clydebank | 3 - 0 | (70') |
| Nov 21st, 1999 | Challenge Cup | (N) | vs. Alloa | 4 - 4 | (29') |
| Nov 27th, 1999 | League | (H) | vs. Airdrieonians | 2 - 0 | (23') |
| Dec 11th, 1999 | League | (H) | vs. St. Mirren | 1 - 1 | (51') |
| Dec 27th, 1999 | League | (H) | vs. Clydebank | 4 - 1 | (87') |
| Dec 27th, 1999 | League | (H) | vs. Clydebank | 4 - 1 | (56') |
| Jan 3rd, 2000 | League | (A) | vs. Livingston | 1 - 1 | (72') |
| Jan 8th, 2000 | League | (H) | vs. Morton | 6 - 2 | (67') |
| Jan 8th, 2000 | League | (H) | vs. Morton | 6 - 2 | (84') |
| Feb 5th, 2000 | League | (A) | vs. Airdrieonians | 4 - 1 | (79') |
| Feb 8th, 2000 | Scottish Cup | (A) | vs. Celtic | 3 - 1 | (16') |
| Mar 7th, 2000 | League | (A) | vs. Ayr United | 3 - 1 | (42') |
| Mar 25th, 2000 | League | (H) | vs. Ayr United | 1 - 1 | (16') |
| Apr 29th, 2000 | League | (A) | vs. Falkirk | 2 - 2 | (63') |
| May 6th, 2000 | League | (H) | vs. St. Mirren | 5 - 0 | (36') |
| Sep 16th, 2003 | Challenge Cup | (A) | vs. Raith Rovers | 4 - 0 | (28') |
| Sep 16th, 2003 | Challenge Cup | (A) | vs. Raith Rovers | 4 - 0 | (81') |
| Nov 14th, 2003 | League | (H) | vs. Ross County | 3 - 3 | (33') |
| Nov 29th, 2003 | League | (H) | vs. Brechin City | 5 - 0 | (85') |
| Dec 6th, 2003 | League | (H) | vs. Queen of the South | 4 - 1 | (84') |
| Dec 27th, 2003 | League | (H) | vs. St. Johnstone | 1 - 0 | (80') p |
| Feb 14th, 2004 | League | (H) | vs. Raith Rovers | 3 - 0 | (86') |
| Mar 6th, 2004 | Scottish Cup | (A) | vs. Motherwell | 1 - 0 | (10') |
| Mar 16th, 2004 | League | (H) | vs. Clyde | 3 - 1 | (88') p |
| Mar 20th, 2004 | League | (A) | vs. Ayr United | 1 - 1 | (42') p |
| Mar 27th, 2004 | League | (H) | vs. Ross County | 1 - 0 | (60') |
| Apr 13th, 2004 | League | (H) | vs. Brechin City | 1 - 0 | (67') p |
| Apr 17th, 2004 | League | (H) | vs. Queen of the South | 4 - 1 | (65') |
| May 15th, 2004 | League | (H) | vs. St. Johnstone | 3 - 1 | (56') p |
| Aug 22nd, 2004 | League | (H) | vs. Celtic | 1 - 3 | (43') p |
| Aug 28th, 2004 | League | (A) | vs. Dundee Utd | 1 - 2 | (60') p |
| Sep 11th, 2004 | League | (H) | vs. Hibernian | 1 - 2 | (37') p |
| Oct 23rd, 2004 | League | (A) | vs. Kilmarnock | 2 - 2 | (16') |
| Oct 30th, 2004 | League | (H) | vs. Livingston | 2 - 0 | (87') |
| Jan 29th, 2005 | League | (H) | vs. Dunfermline | 2 - 0 | (35') |
| Feb 19th, 2005 | League | (A) | vs. Dundee Utd | 1 - 1 | (37') p |
| Mar 2nd, 2005 | League | (H) | vs. Hibernian | 3 - 0 | (77') |
| Mar 12th, 2005 | League | (A) | vs. Hearts | 2 - 0 | (72') p |
| Apr 9th, 2005 | League | (A) | vs. Kilmarnock | 1 - 0 | (32') |
| Aug 24th, 2005 | League Cup | (H) | vs. Alloa | 6 - 1 | (18') |
| Sep 20th, 2005 | League Cup | (H) | vs. Dundee Utd | 2 - 0 | (40') |
| Jan 21st, 2006 | League | (A) | vs. Falkirk | 4 - 1 | (2') |
| Mar 25th, 2006 | League | (A) | vs. Hibernian | 2 - 0 | (79') p |
| Apr 29th, 2006 | League | (A) | vs. Livingston | 1 - 0 | (56') |
| Aug 5th, 2006 | League | (A) | vs. Aberdeen | 1 - 1 | (89') |
| Dec 9th, 2006 | League | (A) | vs. Dundee Utd | 1 - 3 | (14') |
| Jan 6th, 2007 | Scottish Cup | (A) | vs. Stirling Albion | 6 - 1 | (47') |
| Jan 21st, 2007 | League | (H) | vs. Hibernian | 3 - 0 | (42') |
| Mar 3rd, 2007 | League | (H) | vs. Dundee Utd | 1 - 0 | (90') |
| Sep 25th, 2007 | League Cup | (H) | vs. Gretna | 3 - 0 | (67') |
| Oct 27th, 2007 | League | (A) | vs. Gretna | 4 - 0 | (73') |
| May 3rd, 2008 | League | (H) | vs. Gretna | 6 - 1 | (51') |
| May 10th, 2008 | League | (A) | vs. Falkirk | 1 - 2 | (90') p |