Iain Stewart - Player Profile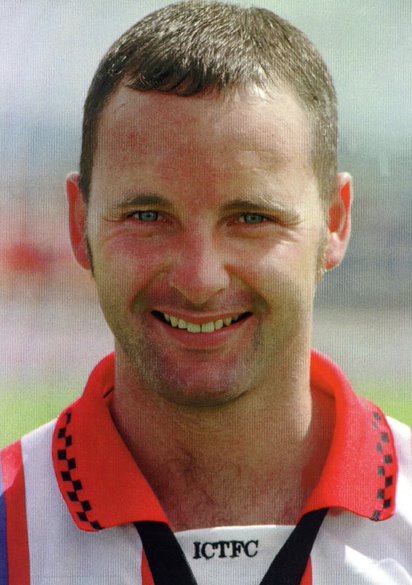 | | |
| --- | --- |
| Full Name: | Iain Stewart |
| Born: | October 23rd, 1969 (Dundee) |
| Position: | Striker |
| Signed: | July 1st, 1995 (£30,000) |
| Left Club: | October 31st, 2000 |
| Career Stats: | 140 appearances, 82 goals |
| Full Debut: | August 5th, 1995 - Berwick Rangers 1 - 1 Inverness CT (League Cup - Rd 1) |
| First Goal: | August 26th, 1995 - Inverness CT 1 - 2 Brechin City (League - ) |
| Also Played For: | Lossiemouth, Peterhead |
Signed from Lossiemouth​ - Position: Forward​ (Goal Machine)

Debut Played: 5 Aug 1995​ - Last Game: 16 Sep 2000​

Signed from Lossiemouth for fee of £30000 set by SFA Tribunal​

Top goalscorer in Div 3 1995/96 (24), Div 3 1996/97 (29) & Div 2 1997/98 (20) - joint; Third Division Championship medal 1996/97; SFL Division Three Player of the Year 1996/97; Supporters' Player of the Year 1996/97; Players' Player of the Year 1997/98​

Peterhead signed striker Iain Stewart on a free transfer from Inverness Caley Thistle.
The deal was set for completion after the former Lossie hitman makes a farewell appearance against Morton at Caledonian Stadium this weekend.

30-year-old Stewart was out of action for the bulk of last season due to a series of injuries and has not forced his way back into first team plans with Caley.

Stewart is currently on a short-term contract which expires at the end of October, but Peterhead's discussions with Inverness and the player will see him released early to join the Scottish League newcomers.​

Peterhead Player/Manager Jan 2004 to Oct 2006 then short spell playing for Inverurie Locos​

What a striker Iain was. Small in stature, but a colossus when it came to putting the ball in the back of the net. He perfected the art of lobbing keepers.

Career Stats: 140 appearances scoring an incredible 82 goals
Full Debut: August 5th, 1995 - Berwick Rangers 1 - 1 Inverness CT (League Cup - Rd 1)
First Goal: August 26th, 1995 - Inverness CT 1 - 2 Brechin City (League 3) "In 41 minutes they took the lead when Iain Stewart stroked home a low pass from Davie Ross who had controlled the ball well on the right.
| | | | | | |
| --- | --- | --- | --- | --- | --- |
| Aug 26th, 1995 | League | (H) | vs. Brechin City | 1 - 2 | (41') |
| Sep 9th, 1995 | League | (H) | vs. Queens Park | 3 - 1 | (25') p |
| Sep 16th, 1995 | League | (A) | vs. Arbroath | 1 - 2 | (48') |
| Sep 23rd, 1995 | League | (A) | vs. Alloa | 5 - 0 | (56') |
| Sep 23rd, 1995 | League | (A) | vs. Alloa | 5 - 0 | (55') |
| Oct 7th, 1995 | League | (A) | vs. East Stirlingshire | 5 - 0 | (87') |
| Oct 7th, 1995 | League | (A) | vs. East Stirlingshire | 5 - 0 | (68') |
| Oct 14th, 1995 | League | (H) | vs. Cowdenbeath | 3 - 2 | (90') |
| Oct 21st, 1995 | League | (H) | vs. Albion Rovers | 6 - 1 | (38') |
| Oct 21st, 1995 | League | (H) | vs. Albion Rovers | 6 - 1 | (24') |
| Oct 21st, 1995 | League | (H) | vs. Albion Rovers | 6 - 1 | (12') p |
| Nov 4th, 1995 | League | (H) | vs. Arbroath | 5 - 1 | (58') |
| Nov 4th, 1995 | League | (H) | vs. Arbroath | 5 - 1 | (17') |
| Nov 11th, 1995 | League | (A) | vs. Queens Park | 3 - 0 | (21') |
| Nov 11th, 1995 | League | (A) | vs. Queens Park | 3 - 0 | (17') |
| Jan 20th, 1996 | League | (A) | vs. East Stirlingshire | 5 - 1 | (24') |
| Jan 20th, 1996 | League | (A) | vs. East Stirlingshire | 5 - 1 | (54') |
| Jan 20th, 1996 | League | (A) | vs. East Stirlingshire | 5 - 1 | (44') |
| Jan 23rd, 1996 | League | (H) | vs. Ross County | 1 - 1 | (12') |
| Jan 27th, 1996 | Scottish Cup | (H) | vs. East Fife | 1 - 1 | (11') |
| Feb 21st, 1996 | League | (A) | vs. Arbroath | 2 - 1 | (72') |
| Feb 28th, 1996 | League | (A) | vs. Albion Rovers | 2 - 0 | (44') p |
| Mar 30th, 1996 | League | (A) | vs. Queens Park | 2 - 1 | (43') |
| May 4th, 1996 | League | (H) | vs. Livingston | 1 - 2 | (89') |
| Aug 27th, 1996 | Challenge Cup | (A) | vs. Stirling Albion | 1 - 3 | (81') |
| Sep 21st, 1996 | League | (H) | vs. Queens Park | 2 - 2 | (21') |
| Sep 28th, 1996 | League | (A) | vs. Ross County | 3 - 1 | (4') |
| Sep 28th, 1996 | League | (A) | vs. Ross County | 3 - 1 | (64') |
| Oct 5th, 1996 | League | (H) | vs. Arbroath | 2 - 0 | (55') |
| Oct 12th, 1996 | League | (A) | vs. Montrose | 2 - 2 | (49') |
| Oct 19th, 1996 | League | (A) | vs. Cowdenbeath | 4 - 3 | (90') |
| Nov 9th, 1996 | League | (H) | vs. Albion Rovers | 1 - 1 | (74') |
| Nov 16th, 1996 | League | (H) | vs. Ross County | 2 - 0 | (89') |
| Nov 16th, 1996 | League | (H) | vs. Ross County | 2 - 0 | (49') |
| Nov 30th, 1996 | League | (A) | vs. Arbroath | 4 - 1 | (57') |
| Dec 14th, 1996 | League | (H) | vs. Montrose | 2 - 0 | (13') |
| Dec 21st, 1996 | League | (H) | vs. Cowdenbeath | 2 - 1 | (47') p |
| Dec 21st, 1996 | League | (H) | vs. Cowdenbeath | 2 - 1 | (69') |
| Jan 22nd, 1997 | League | (H) | vs. Queens Park | 1 - 0 | (80') p |
| Jan 25th, 1997 | Scottish Cup | (H) | vs. Hamilton Academical | 1 - 3 | (12') |
| Feb 1st, 1997 | League | (A) | vs. Montrose | 2 - 0 | (89') p |
| Feb 8th, 1997 | League | (H) | vs. East Stirlingshire | 3 - 2 | (14') |
| Feb 15th, 1997 | League | (A) | vs. Albion Rovers | 3 - 0 | (86') |
| Feb 22nd, 1997 | League | (H) | vs. Forfar Athletic | 1 - 1 | (84') |
| Mar 1st, 1997 | League | (H) | vs. Alloa | 3 - 1 | (3') |
| Mar 1st, 1997 | League | (H) | vs. Alloa | 3 - 1 | (36') p |
| Mar 8th, 1997 | League | (A) | vs. Queens Park | 2 - 1 | (75') |
| Mar 15th, 1997 | League | (H) | vs. Ross County | 3 - 0 | (44') |
| Mar 15th, 1997 | League | (H) | vs. Ross County | 3 - 0 | (76') |
| Apr 5th, 1997 | League | (H) | vs. Montrose | 3 - 2 | (67') |
| Apr 5th, 1997 | League | (H) | vs. Montrose | 3 - 2 | (13') |
| Apr 5th, 1997 | League | (H) | vs. Montrose | 3 - 2 | (81') |
| Apr 19th, 1997 | League | (A) | vs. East Stirlingshire | 3 - 0 | (45') |
| Aug 16th, 1997 | League | (A) | vs. Brechin City | 2 - 2 | (77') |
| Sep 13th, 1997 | League | (H) | vs. Stranraer | 2 - 2 | (82') |
| Oct 4th, 1997 | League | (A) | vs. Forfar Athletic | 1 - 2 | (22') |
| Oct 25th, 1997 | League | (A) | vs. East Fife | 5 - 1 | (81') |
| Oct 25th, 1997 | League | (A) | vs. East Fife | 5 - 1 | (79') |
| Oct 25th, 1997 | League | (A) | vs. East Fife | 5 - 1 | (6') |
| Nov 8th, 1997 | League | (H) | vs. Stenhousemuir | 4 - 1 | (82') |
| Nov 22nd, 1997 | League | (A) | vs. Clyde | 3 - 4 | (71') |
| Nov 29th, 1997 | League | (H) | vs. Queen of the South | 2 - 1 | (70') p |
| Nov 29th, 1997 | League | (H) | vs. Queen of the South | 2 - 1 | (18') |
| Dec 6th, 1997 | Scottish Cup | (H) | vs. Whitehill Welfare | 3 - 1 | (4') p |
| Dec 6th, 1997 | Scottish Cup | (H) | vs. Whitehill Welfare | 3 - 1 | (20') |
| Jan 3rd, 1998 | Scottish Cup | (H) | vs. Queens Park | 2 - 0 | (55') |
| Jan 17th, 1998 | League | (H) | vs. Clyde | 5 - 1 | (69') |
| Jan 17th, 1998 | League | (H) | vs. Clyde | 5 - 1 | (83') |
| Jan 24th, 1998 | Scottish Cup | (H) | vs. Annan Athletic | 8 - 1 | (17') |
| Mar 14th, 1998 | League | (A) | vs. Clyde | 6 - 1 | (85') |
| Apr 18th, 1998 | League | (A) | vs. Stranraer | 1 - 3 | (14') |
| May 2nd, 1998 | League | (H) | vs. Brechin City | 2 - 1 | (39') |
| May 9th, 1998 | League | (A) | vs. Livingston | 2 - 1 | (34') |
| May 1st, 1999 | League | (A) | vs. Livingston | 3 - 4 | (67') |
| May 8th, 1999 | League | (H) | vs. Alloa | 1 - 1 | (84') |
| Aug 24th, 1999 | Challenge Cup | (H) | vs. Hamilton Academical | 3 - 0 | (59') |
| Aug 24th, 1999 | Challenge Cup | (H) | vs. Hamilton Academical | 3 - 0 | (42') |
| Aug 8th, 2000 | League Cup | (A) | vs. Peterhead | 3 - 2 | (16') |
| Aug 12th, 2000 | League | (A) | vs. Livingston | 1 - 3 | (75') |
| Aug 15th, 2000 | Challenge Cup | (A) | vs. Alloa | 3 - 2 | (82') |
| Aug 15th, 2000 | Challenge Cup | (A) | vs. Alloa | 3 - 2 | (53') |
| Aug 26th, 2000 | League | (A) | vs. Raith Rovers | 1 - 4 | (59') |