Aaron Doran - Player Profile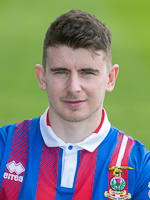 | | |
| --- | --- |
| Full Name: | Aaron Brian Doran Cogan |
| Born: | May 13th, 1991 (Charleville, County Cork, Ireland) |
| Height: | 5' 7 |
| Position: | Winger |
| Signed: | January 25th, 2011 |
| First Manager: | Terry Butcher |
| Left Club: | May 31st, 2023 |
| Career Stats: | 370 appearances, 53 goals |
| Debut (as sub): | January 26th, 2011 - Inverness CT 0 - 2 Aberdeen (League - ) |
| Full Debut: | February 5th, 2011 - 5 - 1 Morton (Scottish Cup - Rd 5) |
| First Goal: | February 12th, 2011 - St. Mirren 3 - 3 Inverness CT (League - ) |
Aaron came to the club on a six month loan from Blackburn Rovers in Season 2010-11. He returned to Rovers at the end of that season. Rovers then released him and he signed a two-year contract with ICT, despite other SPL sides showing an interest.

In his first season he suffered a couple of shoulder injuries that ruled him out for most of the season. 2012/13 was possibly his best season so far with the club and he was instrumental in a fine run of results which drew praise from then manager Terry Butcher and also earned him a Premiership player of the Month award. At the end of the season he signed a new three year deal. He was again an ever present in the 2014/15 squad but more nagging injuries limited his play in 2015 and 2016. He made a comeback in 2017 and was promoted to vice-Captain of the side in 2018.

Aaron was capped for Republic of Ireland at U21 level.
| | | | | | |
| --- | --- | --- | --- | --- | --- |
| Feb 12th, 2011 | League | (A) | vs. St. Mirren | 3 - 3 | (33') |
| Apr 16th, 2011 | League | (H) | vs. Hearts | 1 - 1 | (6') |
| Apr 25th, 2011 | League | (A) | vs. St. Johnstone | 3 - 0 | (57') |
| Oct 5th, 2012 | League | (H) | vs. Ross County | 3 - 1 | (87') |
| Apr 21st, 2013 | League | (A) | vs. Celtic | 1 - 4 | (90') |
| May 11th, 2013 | League | (H) | vs. Dundee Utd | 1 - 2 | (42') |
| Aug 3rd, 2013 | League | (H) | vs. St. Mirren | 3 - 0 | (49') |
| Aug 24th, 2013 | League | (A) | vs. Celtic | 2 - 2 | (14') |
| Nov 2nd, 2013 | League | (H) | vs. Kilmarnock | 2 - 1 | (7') |
| Nov 30th, 2013 | Scottish Cup | (H) | vs. Morton | 4 - 0 | (91') p |
| Jan 1st, 2014 | League | (H) | vs. Ross County | 1 - 2 | (89') |
| Feb 8th, 2014 | Scottish Cup | (A) | vs. Stranraer | 2 - 2 | (40') |
| Feb 18th, 2014 | Scottish Cup | (H) | vs. Stranraer | 2 - 0 | (90') |
| Apr 4th, 2014 | League | (A) | vs. Ross County | 2 - 1 | (45') |
| Aug 16th, 2014 | League | (A) | vs. Motherwell | 2 - 0 | (89') |
| Aug 30th, 2014 | League | (H) | vs. Kilmarnock | 2 - 0 | (75') |
| Sep 13th, 2014 | League | (A) | vs. Partick Thistle | 1 - 3 | (13') |
| Jan 1st, 2015 | League | (A) | vs. Ross County | 3 - 1 | (58') |
| Jan 1st, 2015 | League | (A) | vs. Ross County | 3 - 1 | (27') |
| May 2nd, 2015 | League | (A) | vs. St. Johnstone | 1 - 1 | (55') |
| Oct 29th, 2016 | League | (H) | vs. Hearts | 3 - 3 | (55') |
| Jan 2nd, 2018 | League | (H) | vs. Livingston | 1 - 1 | (6') |
| Jan 13th, 2018 | League | (H) | vs. Queen of the South | 3 - 1 | (58') |
| Jan 20th, 2018 | Scottish Cup | (A) | vs. Dundee | 2 - 2 | (15') |
| Mar 27th, 2018 | League | (H) | vs. Dundee Utd | 1 - 0 | (44') |
| Apr 10th, 2018 | League | (H) | vs. Falkirk | 1 - 0 | (81') |
| Apr 14th, 2018 | League | (H) | vs. Dumbarton | 5 - 1 | (17') |
| Jul 17th, 2018 | League Cup | (A) | vs. Cowdenbeath | 5 - 2 | (45') |
| Jul 17th, 2018 | League Cup | (A) | vs. Cowdenbeath | 5 - 2 | (80') |
| Dec 4th, 2018 | Scottish Cup | (H) | vs. Edinburgh City | 6 - 1 | (91') |
| Dec 22nd, 2018 | League | (A) | vs. Morton | 2 - 1 | (49') |
| Jan 19th, 2019 | Scottish Cup | (H) | vs. East Kilbride | 4 - 0 | (21') |
| Jan 26th, 2019 | League | (A) | vs. Falkirk | 2 - 2 | (45') |
| Feb 11th, 2019 | Scottish Cup | (A) | vs. Ross County | 2 - 2 | (13') |
| Mar 3rd, 2019 | Scottish Cup | (A) | vs. Dundee Utd | 2 - 1 | (92') |
| Mar 9th, 2019 | League | (A) | vs. Queen of the South | 2 - 0 | (7') |
| Mar 22nd, 2019 | League | (A) | vs. Partick Thistle | 2 - 1 | (65') |
| Mar 26th, 2019 | League | (H) | vs. Alloa | 3 - 2 | (29') |
| Jul 20th, 2019 | League Cup | (H) | vs. Raith Rovers | 4 - 1 | (58') |
| Aug 10th, 2019 | League | (H) | vs. Arbroath | 2 - 1 | (44') |
| Sep 7th, 2019 | Challenge Cup | (H) | vs. Morton | 3 - 1 | (31') |
| Oct 29th, 2019 | League | (A) | vs. Queen of the South | 2 - 0 | (30') |
| Nov 23rd, 2019 | League | (H) | vs. Dundee | 1 - 0 | (16') |
| Nov 30th, 2019 | League | (A) | vs. Alloa | 2 - 0 | (45') |
| Jan 4th, 2020 | League | (A) | vs. Dundee | 2 - 0 | (17') |
| Jan 18th, 2020 | Scottish Cup | (A) | vs. Alloa | 3 - 2 | (8') |
| Feb 25th, 2020 | League | (A) | vs. Dunfermline | 2 - 1 | (23') |
| Nov 7th, 2020 | League | (A) | vs. Hearts | 1 - 2 | (86') |
| Jul 13th, 2021 | League Cup | (H) | vs. Peterhead | 2 - 0 | (54') |
| Sep 11th, 2021 | League | (H) | vs. Partick Thistle | 3 - 1 | (71') |
| Aug 13th, 2022 | League | (H) | vs. Cove Rangers | 4 - 1 | (31') |
| Nov 26th, 2022 | Scottish Cup | (H) | vs. Stirling Albion | 3 - 2 | (69') |
| Dec 23rd, 2022 | League | (A) | vs. Partick Thistle | 1 - 5 | (73') |