Billy Mckay - Player Profile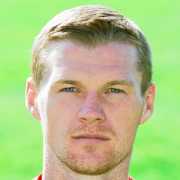 | | |
| --- | --- |
| Full Name: | William Robert Mckay |
| Born: | October 22nd, 1988 (Corby) |
| Height: | 1.7m |
| Position: | Striker |
| Signed: | June 13th, 2021 |
| First Manager: | Billy Dodds |
| Career Stats: | 256 appearances, 102 goals |
| Debut (as sub): | August 27th, 2011 - Inverness CT 2 - 1 Kilmarnock (League - ) |
| Full Debut: | December 3rd, 2011 - St. Mirren 1 - 2 Inverness CT (League - ) |
| First Goal: | December 10th, 2011 - Inverness CT 2 - 3 Dundee Utd (League - ) |
| Also Played For: | Dundee Utd, Hinckley United, Leceister City, Oldham Athletic, Ross County, Wigan Athletic |
Billy was on the books at Leicester City in 2002-2009. He was loaned out to Hinckley United in 2008 where he made two appearances and scored once. Between 2009-2011 he was at Northampton Town where he scored 13 goals in 74 appearances. Billy was first signed from Northampton Town on July 2011. He spent three and a half seasons at the Caledonian Stadium and earned the fans chant "He scores when he wants" after scoring regularly. He left in January 2015 having scored 54 goals in 124 appearances and he signed for Wigan Athletic making just 10 appearances without scoring. Having then made 29 appearances for Dundee United scoring 12 times in 2015-2016 he was loaned out to Oldham Athletic where he made 23 appearances scoring 4 times. His second coming was as a loan player in January 2017 scoring 4 in 15 games. He blotted his copybook with Inverness fans in 2017-2021 by joining Ross County where he made 102 appearances scoring 32 goals. Up to the start of season 2021-2022 he had scored 65 goals in 157 appearances. However he has redeemed himself and signed on again at Inverness for season 21-22. Billy has made 11 appearances for Northern Ireland but has yet to score for the national team. Billy is now closing in on record scorer Dennis Wyness (101). The countdown is now on since he scored his 93rd goal against Morton in Jan 2023.

On the International scene, Billy has made 11 appearances for Northern Ireland but has yet to score for the national team.

See link to Wikipedia for full details of Billy Mckay https://en.wikipedia.org/wiki/Billy_Mckay

Billy has signed a new extension to his contract to take him to the end of season 24/25 At present he starts the new season on 100 goals, one short of the record held by Dennis Wyness.

(BIO Catchup for season 23/24: Across his three spells with the club, Billy has played 246 games for the club and has scored 100 goals. He is just one goal away from equalling Dennis Wyness' ICTFC club goalscoring record.

Billy was voted as the club's Players' Player and Fans' Player of the Year last season, and he also won the club's goal of the season award.

He joined us initially back in 2011 from Northampton Town. During his initial first spell at the club, he scored 62 goals in 141 games before joining Wigan Athletic in January 2015. Billy would return to Caley Thistle for a brief loan spell in January 2017. He then returned the club for third time in the summer of 2021 on a permanent basis.)


Original Bio: Recently signed a new two-year deal. Joined the club from Northampton Town but began his career with Leicester City and came through the Academy where he was a prolific goalscorer. Opportunities didn`t arrive with City and he signed for Northampton Town in the summer of 2009, going on to make over 70 apps. for the club. In a Carling Cup match, he played and scored against Liverpool. A Northern Ireland Under-21 internationalist. Became a regular in the side at the beginning on 3rd December 2011 and scored his first goal the week after in a home match against Dundee United. Lightning quick and very skilful he will be looking to add to his tally of three goals scored last season. Scored against St Mirren in opening SPL fixture this season.
| | | | | | |
| --- | --- | --- | --- | --- | --- |
| Dec 10th, 2011 | League | (H) | vs. Dundee Utd | 2 - 3 | (47') |
| Apr 28th, 2012 | League | (A) | vs. Kilmarnock | 3 - 4 | (29') |
| Apr 28th, 2012 | League | (A) | vs. Kilmarnock | 3 - 4 | (34') |
| Aug 4th, 2012 | League | (A) | vs. St. Mirren | 2 - 2 | (76') |
| Sep 25th, 2012 | League Cup | (A) | vs. Stenhousemuir | 1 - 1 | (23') |
| Oct 19th, 2012 | League | (A) | vs. Dundee | 4 - 1 | (85') |
| Oct 19th, 2012 | League | (A) | vs. Dundee | 4 - 1 | (4') |
| Oct 27th, 2012 | League | (H) | vs. St. Johnstone | 1 - 1 | (72') |
| Nov 3rd, 2012 | League | (A) | vs. Kilmarnock | 2 - 1 | (77') p |
| Nov 24th, 2012 | League | (A) | vs. Celtic | 1 - 0 | (64') |
| Nov 27th, 2012 | League | (A) | vs. Aberdeen | 3 - 2 | (82') |
| Nov 27th, 2012 | League | (A) | vs. Aberdeen | 3 - 2 | (36') |
| Dec 1st, 2012 | Scottish Cup | (A) | vs. Ross County | 3 - 3 | (30') |
| Dec 8th, 2012 | League | (H) | vs. Hibernian | 3 - 0 | (87') |
| Dec 11th, 2012 | Scottish Cup | (H) | vs. Ross County | 2 - 1 | (54') |
| Dec 11th, 2012 | Scottish Cup | (H) | vs. Ross County | 2 - 1 | (9') p |
| Dec 15th, 2012 | League | (A) | vs. Dundee Utd | 4 - 4 | (28') |
| Dec 15th, 2012 | League | (A) | vs. Dundee Utd | 4 - 4 | (26') |
| Dec 15th, 2012 | League | (A) | vs. Dundee Utd | 4 - 4 | (62') p |
| Dec 22nd, 2012 | League | (H) | vs. Dundee | 4 - 1 | (48') |
| Dec 22nd, 2012 | League | (H) | vs. Dundee | 4 - 1 | (12') p |
| Jan 19th, 2013 | League | (H) | vs. Aberdeen | 3 - 0 | (78') |
| Jan 19th, 2013 | League | (H) | vs. Aberdeen | 3 - 0 | (61') |
| Jan 30th, 2013 | League | (A) | vs. St. Mirren | 1 - 2 | (45') p |
| Feb 23rd, 2013 | League | (A) | vs. Hearts | 3 - 2 | (61') |
| Mar 9th, 2013 | League | (A) | vs. Dundee | 1 - 1 | (83') |
| Mar 16th, 2013 | League | (H) | vs. Ross County | 2 - 1 | (59') p |
| May 4th, 2013 | League | (H) | vs. Motherwell | 4 - 3 | (27') |
| May 4th, 2013 | League | (H) | vs. Motherwell | 4 - 3 | (3') |
| May 4th, 2013 | League | (H) | vs. Motherwell | 4 - 3 | (84') |
| Aug 3rd, 2013 | League | (H) | vs. St. Mirren | 3 - 0 | (57') |
| Aug 10th, 2013 | League | (A) | vs. Dundee Utd | 1 - 0 | (20') |
| Aug 17th, 2013 | League | (H) | vs. Motherwell | 2 - 0 | (36') |
| Aug 31st, 2013 | League | (H) | vs. Hearts | 2 - 0 | (9') |
| Aug 31st, 2013 | League | (H) | vs. Hearts | 2 - 0 | (32') |
| Sep 14th, 2013 | League | (A) | vs. Kilmarnock | 2 - 1 | (56') |
| Sep 24th, 2013 | League Cup | (A) | vs. Dundee | 1 - 0 | (11') |
| Sep 28th, 2013 | League | (H) | vs. Hibernian | 3 - 0 | (61') |
| Sep 28th, 2013 | League | (H) | vs. Hibernian | 3 - 0 | (11') |
| Nov 9th, 2013 | League | (A) | vs. Hibernian | 2 - 0 | (18') |
| Nov 23rd, 2013 | League | (H) | vs. St. Johnstone | 1 - 0 | (4') |
| Nov 30th, 2013 | Scottish Cup | (H) | vs. Morton | 4 - 0 | (71') |
| Nov 30th, 2013 | Scottish Cup | (H) | vs. Morton | 4 - 0 | (90') |
| Dec 14th, 2013 | League | (A) | vs. Hearts | 2 - 0 | (83') |
| Dec 14th, 2013 | League | (A) | vs. Hearts | 2 - 0 | (59') |
| Dec 21st, 2013 | League | (H) | vs. Aberdeen | 3 - 4 | (57') |
| Dec 21st, 2013 | League | (H) | vs. Aberdeen | 3 - 4 | (47') |
| Jan 12th, 2014 | League | (H) | vs. Dundee Utd | 1 - 1 | (5') |
| Feb 8th, 2014 | Scottish Cup | (A) | vs. Stranraer | 2 - 2 | (74') |
| Feb 25th, 2014 | League | (A) | vs. Ross County | 3 - 0 | (42') |
| Mar 22nd, 2014 | League | (H) | vs. Partick Thistle | 1 - 0 | (62') |
| Apr 4th, 2014 | League | (A) | vs. Ross County | 2 - 1 | (79') |
| Aug 9th, 2014 | League | (A) | vs. Hamilton Academical | 2 - 0 | (10') |
| Nov 8th, 2014 | League | (H) | vs. Hamilton Academical | 4 - 2 | (68') |
| Nov 8th, 2014 | League | (H) | vs. Hamilton Academical | 4 - 2 | (25') |
| Nov 22nd, 2014 | League | (H) | vs. Motherwell | 3 - 1 | (29') |
| Dec 6th, 2014 | League | (A) | vs. Dundee | 2 - 1 | (55') |
| Jan 1st, 2015 | League | (A) | vs. Ross County | 3 - 1 | (73') |
| Jan 4th, 2015 | League | (H) | vs. St. Mirren | 1 - 0 | (77') |
| Jan 10th, 2015 | League | (A) | vs. Kilmarnock | 2 - 1 | (81') |
| Jan 10th, 2015 | League | (A) | vs. Kilmarnock | 2 - 1 | (53') |
| Jan 20th, 2015 | League | (H) | vs. St. Johnstone | 2 - 0 | (34') |
| Feb 4th, 2017 | League | (H) | vs. Dundee | 2 - 2 | (53') p |
| Feb 24th, 2017 | League | (H) | vs. Rangers | 2 - 1 | (89') |
| Apr 1st, 2017 | League | (H) | vs. Kilmarnock | 1 - 1 | (25') |
| May 17th, 2017 | League | (A) | vs. Dundee | 2 - 0 | (2') |
| Sep 4th, 2021 | Challenge Cup | (H) | vs. Buckie Thistle | 4 - 0 | (81') |
| Sep 4th, 2021 | Challenge Cup | (H) | vs. Buckie Thistle | 4 - 0 | (90') |
| Oct 9th, 2021 | Challenge Cup | (A) | vs. Elgin City | 4 - 2 | (40') |
| Oct 9th, 2021 | Challenge Cup | (A) | vs. Elgin City | 4 - 2 | (38') |
| Oct 9th, 2021 | Challenge Cup | (A) | vs. Elgin City | 4 - 2 | (68') |
| Oct 16th, 2021 | League | (H) | vs. Morton | 2 - 0 | (20') |
| Nov 13th, 2021 | League | (H) | vs. Dunfermline | 1 - 2 | (22') |
| Nov 19th, 2021 | League | (A) | vs. Queen of the South | 2 - 1 | (50') |
| Nov 19th, 2021 | League | (A) | vs. Queen of the South | 2 - 1 | (19') p |
| Nov 27th, 2021 | Scottish Cup | (H) | vs. Morton | 1 - 1 | (12') |
| Dec 11th, 2021 | League | (A) | vs. Morton | 6 - 1 | (33') |
| Jan 15th, 2022 | League | (H) | vs. Queen of the South | 2 - 2 | (62') |
| Feb 9th, 2022 | League | (H) | vs. Partick Thistle | 3 - 3 | (21') |
| Mar 12th, 2022 | League | (H) | vs. Arbroath | 3 - 0 | (68') |
| Apr 15th, 2022 | League | (H) | vs. Kilmarnock | 2 - 1 | (76') |
| Jul 19th, 2022 | League Cup | (H) | vs. Albion Rovers | 4 - 0 | (2') |
| Jul 30th, 2022 | League | (H) | vs. Queens Park | 1 - 1 | (44') |
| Sep 3rd, 2022 | League | (A) | vs. Raith Rovers | 2 - 0 | (92') |
| Sep 17th, 2022 | League | (A) | vs. Dundee | 3 - 2 | (45') p |
| Oct 7th, 2022 | League | (H) | vs. Partick Thistle | 1 - 0 | (75') |
| Nov 12th, 2022 | League | (A) | vs. Queens Park | 1 - 2 | (18') |
| Jan 2nd, 2023 | League | (H) | vs. Cove Rangers | 6 - 1 | (44') p |
| Jan 2nd, 2023 | League | (H) | vs. Cove Rangers | 6 - 1 | (32') |
| Jan 2nd, 2023 | League | (H) | vs. Cove Rangers | 6 - 1 | (64') |
| Jan 7th, 2023 | League | (A) | vs. Arbroath | 4 - 1 | (9') |
| Jan 28th, 2023 | League | (A) | vs. Raith Rovers | 2 - 2 | (83') |
| Feb 4th, 2023 | League | (H) | vs. Morton | 2 - 2 | (57') |
| Feb 11th, 2023 | Scottish Cup | (A) | vs. Livingston | 3 - 0 | (51') |
| Feb 11th, 2023 | Scottish Cup | (A) | vs. Livingston | 3 - 0 | (80') |
| Mar 10th, 2023 | Scottish Cup | (H) | vs. Kilmarnock | 2 - 1 | (24') p |
| Apr 15th, 2023 | League | (A) | vs. Cove Rangers | 2 - 1 | (67') p |
| Apr 18th, 2023 | League | (A) | vs. Hamilton Academical | 2 - 1 | (88') |
| Apr 29th, 2023 | Scottish Cup | (N) | vs. Falkirk | 3 - 0 | (57') |
| Apr 29th, 2023 | Scottish Cup | (N) | vs. Falkirk | 3 - 0 | (5') p |
| Jul 18th, 2023 | League Cup | (A) | vs. Dumbarton | 1 - 2 | (76') |
| Jul 25th, 2023 | League Cup | (H) | vs. Airdrieonians | 2 - 3 | (78') p |