Ross Tokely - Player Profile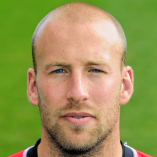 | | |
| --- | --- |
| Full Name: | Ross Tokely |
| Born: | March 8th, 1979 (Aberdeen) |
| Position: | right back, centre back |
| Signed: | June 3rd, 1966 |
| Career Stats: | 589 appearances, 36 goals |
| Full Debut: | August 3rd, 1996 - Clyde 1 - 0 Inverness CT (League Cup - Rd 1) |
| First Goal: | February 15th, 1997 - Albion Rovers 0 - 3 Inverness CT (League - ) |
| Also Played For: | Huntly |
Position: Defender - Signed From: Huntly
Date Signed: 03.06.1996

Appearances up to end of Season 2009-10: League - 429 / Goals - 29 Cup - 88 / Goals - 4
Honours: Bell's Third Division Championship Winners Medal - Season 1996-97.
Bell's Challenge Cup Runners-Up Medal - Season 1999-2000.
Bell's Cup Winners Medal - Season 2003-04.
Bell's First Division Championship Winners Medal - Season 2003-04.
Alba Challenge Cup Runners-Up Medal - Season 2009-10.
Irn Bru First Division Championship Winners Medal - Season 2009-10.

Ross was signed by Steve Paterson from Highland League side Huntly in 1996. He made his first appearance for the club in a Coca-Cola Cup-tie on 3rd August 1996 against Clyde and helped the side win the Third Division Championship at the end of that season.

He gradually established himself in the side, usually playing at right back, although more recently he has been playing in central defence. He was a major influence in the team as they progressed through the Scottish Football Leagues to the First Division and one of his highlights was scoring a fantastic goal against his boyhood heroes Hearts in the 2002 Scottish Cup, hitting a 20 yard shot into the top corner at Tynecastle as Inverness defeated another SPL club, having already won 3–1 at Celtic Park in 2000.

He was a mainstay in the side that won promotion to the SPL in 2004, by winning the First Division Championship and also winning the Challenge Cup.

After 10 years' service to the club, he was awarded a Testimonial Match against Sheffield United. Throughout their five-year stint in the top league, he has been a rock in the Caley Thistle defence. He suffered dismay when the club were relegated to the First Division but played a major part in helping them back to the SPL in one season. Made captain of the team for his 500th appearance for Inverness in a 1–0 win against Airdrie United. He agreed a new contract with Inverness in June 2010, despite receiving offers from overseas.

Recently passed his UEFA B Coaching Badge.

Rossco went on to make a record 589 appearances for the Caley Jags over 16 seasons 1996-2012. What a legend Rossco was. Partial to a red card, he was sent off eight times in his career and booked 89 times. But what a career it was.

His first goal was against Albion Rovers on Feb 15th 1997: In 77 minutes Ross Tokely made it 2-0 with a tremendous 20 yard drive after good work on the left by Daisy Ross.

His final goal was against Hearts on Nov 26th 2011: Hayes sent a looping ball into the box where it was met by Tokely, stooping to get to the ball ahead of Webster, and he nodded it past Kello from about five yards.
| | | | | | |
| --- | --- | --- | --- | --- | --- |
| Feb 15th, 1997 | League | (A) | vs. Albion Rovers | 3 - 0 | (77') |
| Mar 8th, 1997 | League | (A) | vs. Queens Park | 2 - 1 | (77') |
| Aug 22nd, 1998 | League | (A) | vs. Alloa | 1 - 1 | (39') |
| Aug 14th, 1999 | League | (H) | vs. Falkirk | 2 - 3 | (38') |
| Nov 12th, 1999 | League | (A) | vs. Morton | 1 - 5 | (41') |
| Jan 8th, 2000 | League | (H) | vs. Morton | 6 - 2 | (90') |
| Aug 5th, 2000 | League | (H) | vs. Airdrieonians | 2 - 0 | (8') |
| Nov 10th, 2001 | League | (A) | vs. Raith Rovers | 5 - 1 | (71') |
| Nov 28th, 2001 | League Cup | (A) | vs. Ayr United | 1 - 5 | (9') |
| Jan 12th, 2002 | League | (H) | vs. Raith Rovers | 5 - 0 | (7') |
| Jan 26th, 2002 | Scottish Cup | (A) | vs. Hearts | 3 - 1 | (26') |
| Mar 23rd, 2002 | League | (H) | vs. Ross County | 1 - 1 | (57') |
| Aug 17th, 2002 | League | (H) | vs. Falkirk | 1 - 2 | (24') |
| Sep 21st, 2002 | League | (H) | vs. Arbroath | 5 - 0 | (68') |
| Sep 21st, 2002 | League | (H) | vs. Arbroath | 5 - 0 | (6') |
| Dec 28th, 2002 | League | (A) | vs. St. Mirren | 4 - 1 | (24') |
| Apr 5th, 2003 | League | (H) | vs. Queen of the South | 1 - 0 | (42') |
| Oct 4th, 2003 | League | (H) | vs. Raith Rovers | 2 - 1 | (31') |
| Nov 29th, 2003 | League | (H) | vs. Brechin City | 5 - 0 | (36') |
| Nov 29th, 2003 | League | (H) | vs. Brechin City | 5 - 0 | (76') |
| Aug 24th, 2004 | League Cup | (A) | vs. Ross County | 1 - 0 | (65') |
| Sep 22nd, 2004 | League Cup | (H) | vs. Motherwell | 1 - 3 | (56') |
| Apr 30th, 2005 | League | (H) | vs. Kilmarnock | 1 - 2 | (27') p |
| Nov 26th, 2005 | League | (H) | vs. Dundee Utd | 1 - 1 | (19') |
| Jan 21st, 2006 | League | (A) | vs. Falkirk | 4 - 1 | (56') |
| Apr 8th, 2006 | League | (A) | vs. Livingston | 1 - 2 | (16') |
| Sep 9th, 2006 | League | (A) | vs. Motherwell | 4 - 1 | (25') |
| Sep 30th, 2006 | League | (H) | vs. Dunfermline | 1 - 0 | (90') |
| Aug 11th, 2007 | League | (A) | vs. Motherwell | 1 - 2 | (82') |
| May 3rd, 2008 | League | (H) | vs. Gretna | 6 - 1 | (88') |
| Dec 27th, 2008 | League | (A) | vs. Motherwell | 2 - 3 | (44') |
| May 2nd, 2009 | League | (A) | vs. St. Mirren | 2 - 1 | (83') |
| Nov 28th, 2009 | League | (A) | vs. Partick Thistle | 1 - 2 | (7') |
| Jul 31st, 2010 | League Cup | (H) | vs. Queens Park | 3 - 0 | (58') |
| Feb 19th, 2011 | League | (H) | vs. St. Johnstone | 2 - 0 | (28') |
| Nov 26th, 2011 | League | (A) | vs. Hearts | 1 - 2 | (58') |