Charlie Christie - Player Profile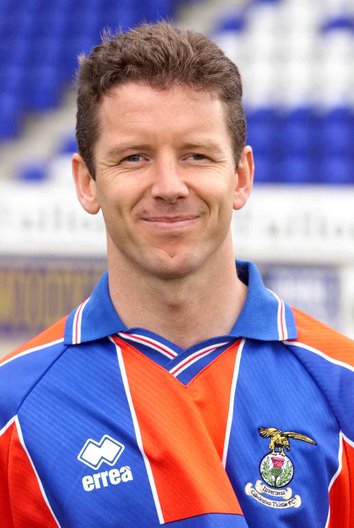 | | |
| --- | --- |
| Full Name: | Charles Christie |
| Born: | March 30th, 1966 (Inverness, Scotland) |
| Height: | 1.75 |
| Position: | attacking midfielder |
| Signed: | July 1st, 1994 |
| First Manager: | Sergei Baltacha |
| Left Club: | May 31st, 2004 |
| Career Stats: | 312 appearances, 34 goals |
| Full Debut: | September 3rd, 1994 - Albion Rovers 0 - 1 Inverness CT (League - (Div 3)) |
| First Goal: | November 19th, 1994 - Inverness CT 2 - 1 Albion Rovers (League - (Div 3)) |
| Also Played For: | Celtic |
Charlie Christie made 314 appearances as a Caley Thistle player, including a man of the match performance in THAT game against Celtic in season 1999/2000.

Charlie had signed for Celtic in 1987 from Inverness Thistle but never made any first team appearances although he was a regular for their reserve side. He returned North two years later to sign for Inverness Caledonian in the Highland league in 1989. He made his debut for Caledonian Thistle on 3rd September 1994 in a 1-0 win at Albion Rovers in the 3rd Division. The rest is history...

When Craig Brewster resigned as manager in January 2006 to return to his 'spiritual home' at Dundee Utd, in the same way as his predecessor John Robertson had returned to Hearts, the Caley Thistle board decided that it was time to appoint a manager who had ICT in his heart.

Having been at the club since it was formed and involved not only in fundraising through the Centenary lottery but also coaching, Charlie Christie was the chosen man.

His managerial career spanned 63 games and he won around a third of these including an excellent 5 game winning streak at the end of season 05/06 where ICT won all 5 post-split fixtures without conceding a single goal (an SPL record).

He resigned after three games of the 07/08 season citing family reasons and returned to a behind the scenes role at the club.

Charlie's son is Ryan Christie who starred for Inverness before joining Celtic and has been capped for Scotland.

Charlie's trophy cabinet: Third Division Championship medal 1996/97; Matchday Programme Player of the Year 1998/99; Top appearances 2000/01 (42 out of 43); First Division Championship medal 2003/04; Only player to appear in all of first ten seasons; First player to reach 150, 200, 250 & 300 appearances​. Total of 314 appearances scoring a total of 34 goals. Testimonial match v Celtic 7 April 1998.

An ICTFC Legend.
| | | | | | |
| --- | --- | --- | --- | --- | --- |
| Nov 19th, 1994 | League | (H) | vs. Albion Rovers | 2 - 1 | (75') |
| Nov 19th, 1994 | League | (H) | vs. Albion Rovers | 2 - 1 | (73') |
| Nov 26th, 1994 | League | (H) | vs. Alloa | 2 - 2 | (18') |
| Feb 25th, 1995 | League | (H) | vs. East Stirlingshire | 3 - 3 | (74') |
| Feb 25th, 1995 | League | (H) | vs. East Stirlingshire | 3 - 3 | (8') |
| May 6th, 1995 | League | (H) | vs. Ross County | 3 - 0 | (82') |
| Sep 23rd, 1995 | League | (A) | vs. Alloa | 5 - 0 | (36') |
| Sep 23rd, 1995 | League | (A) | vs. Alloa | 5 - 0 | (78') |
| Sep 23rd, 1995 | League | (A) | vs. Alloa | 5 - 0 | (43') |
| Nov 4th, 1995 | League | (H) | vs. Arbroath | 5 - 1 | (72') |
| Nov 4th, 1995 | League | (H) | vs. Arbroath | 5 - 1 | (77') |
| Nov 25th, 1995 | League | (H) | vs. Alloa | 1 - 1 | (84') |
| Jan 13th, 1996 | League | (A) | vs. Alloa | 2 - 0 | (88') |
| Jan 17th, 1996 | League | (A) | vs. Livingston | 2 - 0 | (81') |
| Feb 3rd, 1996 | League | (A) | vs. Cowdenbeath | 1 - 2 | (4') |
| Mar 30th, 1996 | League | (A) | vs. Queens Park | 2 - 1 | (56') |
| Apr 13th, 1996 | League | (H) | vs. Cowdenbeath | 2 - 0 | (34') |
| Apr 20th, 1996 | League | (H) | vs. Albion Rovers | 1 - 1 | (45') |
| Sep 21st, 1996 | League | (H) | vs. Queens Park | 2 - 2 | (75') |
| Nov 23rd, 1996 | League | (A) | vs. Queens Park | 3 - 2 | (21') |
| Nov 30th, 1996 | League | (A) | vs. Arbroath | 4 - 1 | (85') |
| Aug 2nd, 1997 | League Cup | (H) | vs. Stenhousemuir | 5 - 1 | (32') |
| Oct 24th, 1998 | League | (H) | vs. East Fife | 4 - 2 | (26') |
| Jan 30th, 1999 | League | (H) | vs. Forfar Athletic | 2 - 0 | (67') |
| Feb 20th, 1999 | League | (A) | vs. Alloa | 4 - 1 | (88') |
| May 1st, 1999 | League | (A) | vs. Livingston | 3 - 4 | (61') |
| Nov 30th, 1999 | League | (H) | vs. Ayr United | 1 - 1 | (80') |
| Dec 16th, 2000 | League | (H) | vs. Airdrieonians | 4 - 0 | (42') |
| Apr 7th, 2001 | League | (A) | vs. Morton | 3 - 0 | (17') |
| Aug 7th, 2001 | Challenge Cup | (H) | vs. Forfar Athletic | 3 - 2 | (7') |
| Sep 29th, 2001 | League | (H) | vs. Ayr United | 3 - 1 | (49') |
| Nov 10th, 2001 | League | (A) | vs. Raith Rovers | 5 - 1 | (21') |
| Aug 31st, 2002 | League | (A) | vs. St. Mirren | 4 - 0 | (72') |
| May 10th, 2003 | League | (A) | vs. Falkirk | 3 - 2 | (82') |